The Illinois Physics community strongly rejects antisemitism, racism, and discrimination in all forms
10/22/2019 5:16:06 PM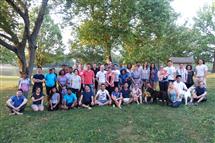 The Illinois Physics community strongly rejects antisemitism, racism, and discrimination in all forms. Please see the statement, signed by Physics and CPLC faculty and staff, here.

If you have experienced or witnessed discrimination or harrassment, contact CPLC's Associate Director of Education and Inclusivity, or use the University's online form for reporting discrimination or harassment.

You may also use the UIUC campus WeCare site for sexual misconduct support, response, prevention, and reporting.

The Office of Student Conflict Resolution may also be used to reporting acts of intolerance.