Joseph Ryan Peterson is awarded a National Science Foundation fellowship in 2014!
5/5/2014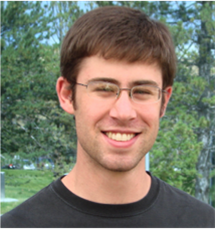 Joseph Peterson is a 2014 recipient of National Science Foundation fellowship. Joseph's research is in Chemistry working under the guidance of
Dr. Zan Luthey-Schulten
. His research is focused on the development and application of computational methods and models for study of micro-organisms. Particularly he is developing kinetic, metabolic and regulatory models for the robust "Methanosarcina" genus of methane producing microbes that catalyze the final step in biomass degredation.
It is the CPLC's great pleasure to congratulate him on this honor as the latest member of the Center for the Physics of Living Cells to receive the NSF Graduate Research fellowship.
The National Science Foundation Graduate Research Fellowship Program recognizes outstanding students who are pursuing research-based master's and doctoral degrees in science, technology, engineering, mathematics, and select social science disciplines. It is a highly competitive program that seeks to identify the next generation of knowledge leaders who will contribute significantly to research and teaching in the sciences. Fellows receive a three-year funding package that includes a $30,000 annual stipend along with coverage of tuition and fees.
Congratulations Joe!